About Us
We at The Radha Govind Institute of Technology & Management( An ISO 9001:2000 Certified Institute ) was established in 2003 and started functioning after registration and Cources is Approved by AICTE, New Delhi.
College Affiliated to : NCTE, Jaipur (Rajasthan)
M.J.P. Rohilkhand University, Bareilly (U.P.)


College Code : 1251

This Institute will fulfill any requirement of future expansion and diversification while most of other universities offer education in limited streams. At presents Diploma/Degree Engg. & MBA courses are being run successfully.
Chairman's Desk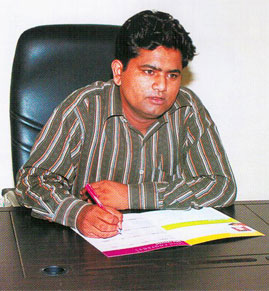 Mr. P.K.Sharma (Computer Engineer) the Chairman of "RADHA GOVIND GROUP OF INSTITUTION "Chanduasi, Moradabad lighted the candle of technology and higher education.

The Institute is established in 2003 to impart technical and management education. This Institute is top class Engineering Training Institute.

It ensures the highest standards of education through excellent faculty and expand this institution to match world standards. I will provide an open opportunity to the young generation for evolving their core competencis for building their career as worls class professionals with boards base foundation through knowledge and versatality to meet challanges of global competition.
The aim of institute is not only impart quality education but to prepare noble, responsible, patriot, cultured citizen. We stress not only on formal education but on practical knowledge in the respective fields. We also give equal importance to character building to infuse nationalism and humanity in our students.
Thus students not only excel in their career but also prove themselves worthly citizens of india and society.

Er. P.K.SHARMA
Chairman
OUR MOTTO : QUALITY EDUCATION AT EFFORDABLE COST


To build their carrier as caring and competent professional standing up to the modern challenges and meeting the requirements of continued professional research and development.
To afford an opportunity to acquire professional excellence.
To promote and encourage research and innovative approach in dentistry ensuring innovative approach in methods and procedures.
Our Group